Wiskind group is very professional is the area of roofing metal,rock wool/PU sandwitch panel; and we have been in this area over 30 years. We have Top quality PU sandwitch panel, we are leading manufacture in China.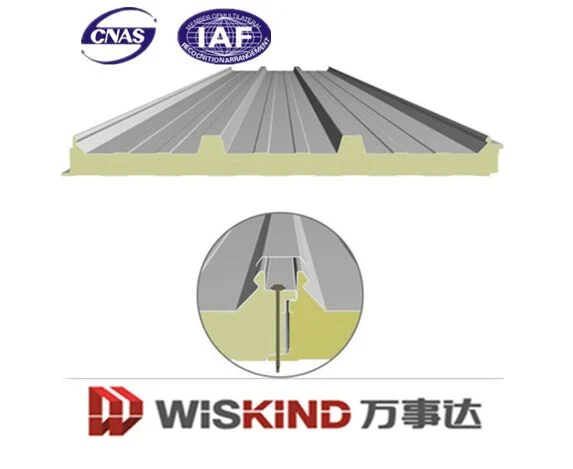 1.Specification
| | |
| --- | --- |
| Surface texture | Small wave, Flat, Embossment,Big rib |
| Thickness of steel plate | 0.5-0.8mm |
| Heat insulating material | PU(Polyurethane) |
| Core material density | 40-45kg/m3 |
| Thickness of core material | 40mm 50mm 75mm 100mm 150mm 200mm |
| Effect width | 500-1000mm |
| Color | white, whitegrey,red,sea blue etc. |
| Recommended coating | PVDF ,PE,HDP,SMP |
| Recommended plating | Hot-dip galvanized, Al-Zn coated |
Characteristics:
(1). Heat and sound insulation. Temperature suitable for PU ranges from -200 centigrade to 150 centigrade.
(2). Good chemical resistance, waterproof, anti-corrosion, insect-free etc.
(3). Advanced Tech: Automatic rolling machines make the whole process of manufacture effective.
(4). Energy conservation, environmental protection, economical, heat insulting, good structure, easy-doing construction
(5). Light weight enough to reduce building expense.
(6). Time can be saved on a building project due to the simple installation
Application:
Steel house, suburban housing, villa, kindergarten, model house for apartment, commercial building, remodeling of old structures, warehouse, steel structure house, workshop, work plant, airport, cold storage, mobile house, etc.