1.Product Description
1).Panel Information
Steel sandwich panel is a structure made of three layers:low density core inserted in between two relatively thin layers.
This sandwich set up allows to achieve excellent mechanical performance at minimal weight.
The very high rigidity of a sandwich panel is achieved thanks to interaction of its components under flexural load applied to the panel:core takes the shear loads and creates a distance between the skins which take the in-plane stresses,one skin in tension,the other in compression.
Greneral information on sandwich panel structure,different sandwich core types available and the potential with respect to weight savings is available in the following reference.
Rockwool Sandwich panel is composed of 2 layers of PPGI ( prepainted galvanized iron) and rockwool which is fire rated A and heat insulation materials.
Rockwool sandwich panels are widely used as various roofs and walls referring to the large-size factory buildings, storages, exhibition halls, gymnasiums, cold storage panel, purifications workshops, etc, which features temperature keeping, heat insulation, weight-bearing, weatherproof with the rich colorfulness and good appearance.
Glasswool sandwich panel is made from incombustible glass wool as the core material,structure to be galvanized or aluminized zinc color coating steel plate for veneer, both ends are polyurethane sealing side,through the professional adhesive, the interaction between the composites form the high quality energy saving sandwich panel.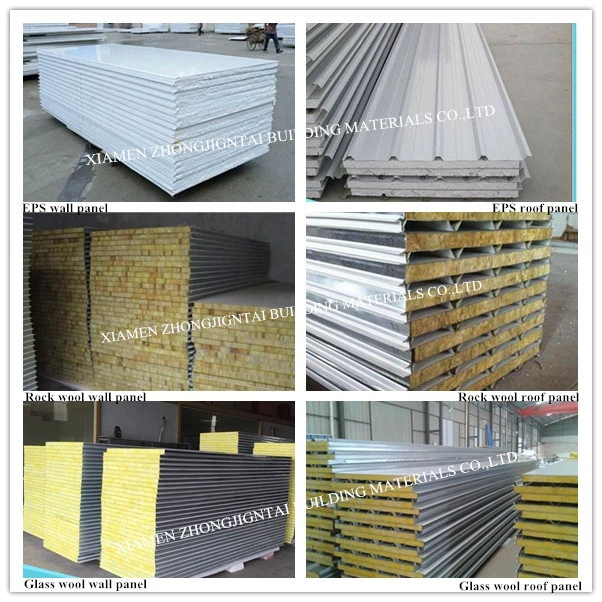 2).Panel Composition
Upper/Bottom Layer:Metal Sheet-PPGI painted steel sheet
Glue
Core materials:EPS(Polystyrene),rock wool,glasswool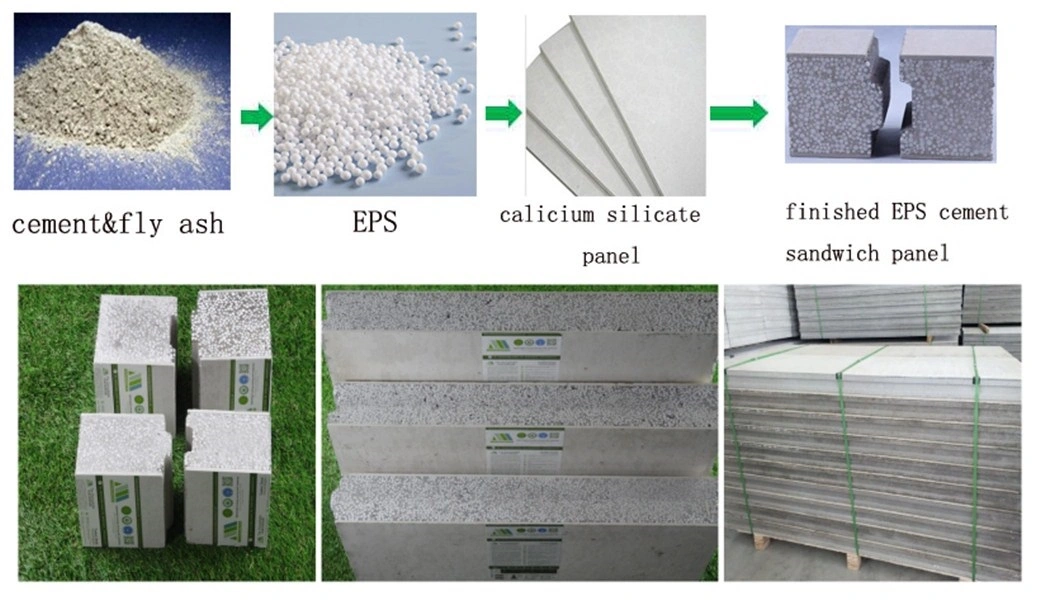 3).Panel Advantages
1. Easy and quick to install;
2. Excellent load and span capabilities;
3. Significant savings in site installation costs;
4. Panel comes in a range of aesthetically pleasuring colors;
5. Energy saving thermal insulation;
6. Superior air tightness for controlled environments;
7. Good reactions to fire properties;
8. Durable, long lasting, stood the test of time in the extremes of harsh climate.
2.About Color Steel Sandwich Panel
1).Index
Items

EPS sandwich panel

Rock wool sandwich panel

Glass wool sandwich panel

Length

According to customer' s request

Width

Roof panel:950/1150mm; Wall panel:970mm

Thickness of core material

50/75/100/150mm

Thickness of
color steel sheet


0.3-0.8mm (0.326/0.376/0.426/0.476mm)

Density of
core material

8-25Kg/m

60-150Kg/m³

60/80Kg/m³

Color
Normal:off-white
Colors:blue or other RAL color.
2).How To Install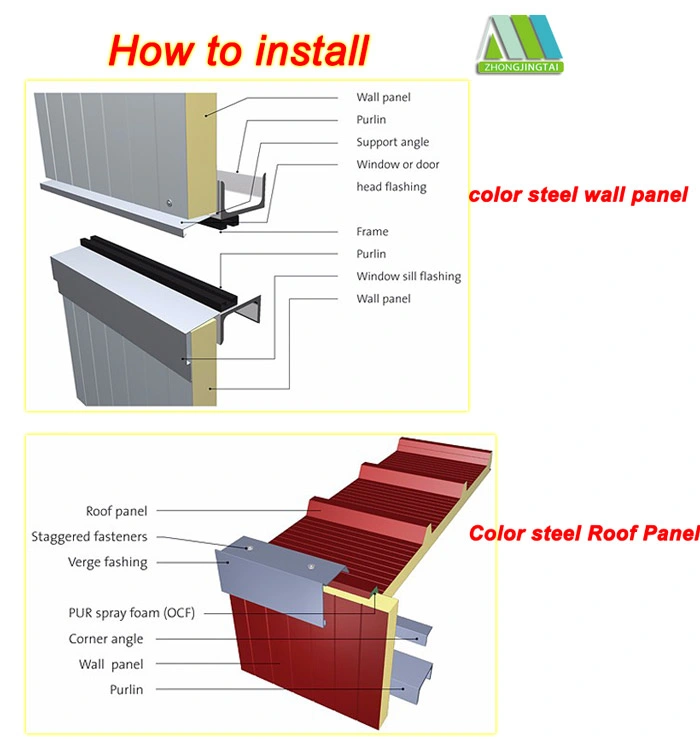 3.Application
Widely used in steel structure workshop, simple movable house roof, wall,
air clean ceiling and partition, prefab house, commercial and residential buildings, etc.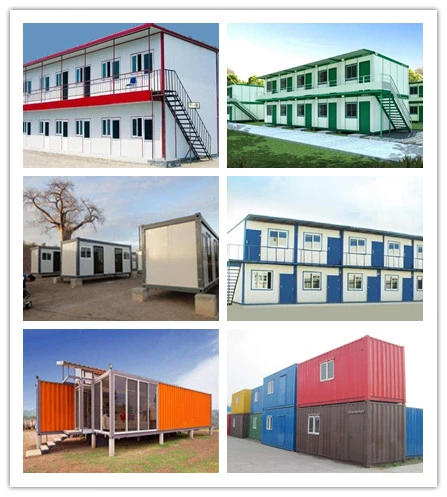 4.FAQ
1,Q:What is your MOQ?
A:A 20 feet container.
2,Q:How about your time of delivery?
A:It's about 15 days after receiving deposit.
3,Q:How can we get samples.
A:Our samples are free for your reference.
4,Q:How about the payment terms?
A:30% T/T in advance T/T balance before delivery.
5.Company Information
XIAMEN ZHONGJINGTAI BUILDING MATERIALS CO., LTD. is a professional high-tech research and development company producing new wall materials, machinery and equipment development, technology production and promotion of product applications. The company is situated in the charming Xiamen city, with the convenience of water and land transportation and only ten minutes from the airport.
We adhere to the "quality first, win-win cooperation" business philosophy and provide our value customers with strong technical support and package services. With our top quality products and credibility, we pledge to collaborate with our partners to thrive together while meeting the demands of the market. We are committed to contribute these superior and environmentally-friendly wall materials to the society.
In the trend of low-carbon and energy-saving in domestic, ZJT is on a mission environmental protection, and actively promoting the development and popularization of green building materials. The composition of the materials of ZJT energy-saving wall panel strictly implements national GB6566-2001Building Materials Radionuclide Limited standard, which belong to the main of the radioactive building materials and a kind of decoration materials, 100% do not contain harmful substances in humans, and in high temperature combustion state, the release of excessive part also can be operated in an efficient range so it has no direct threat to human. At the same time, the construction of the product itself almost do not produce construction waste, in the demolition of buildings the product has the reuse rate of as high as 72%-93%, so these features make it surely become one of the most environmental protection administration of green environmental protection building materials.

Our Clients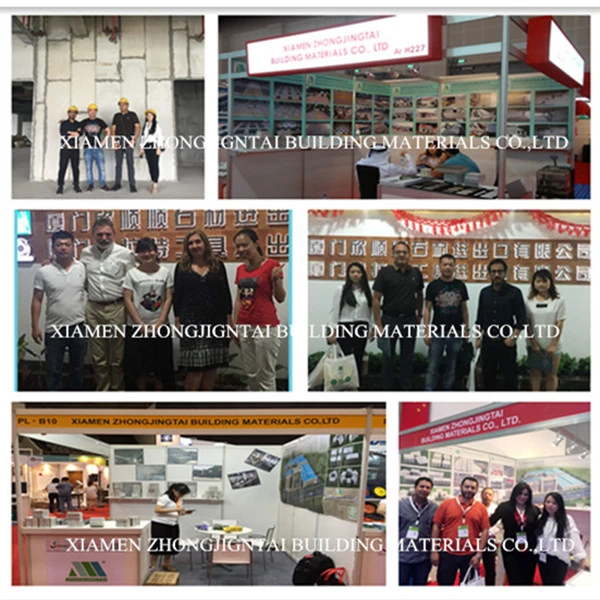 6.Contact Information

Chancy Lan
Mobile Phone: 0086-592-5216902

Website: http://zjteps.en.made-in-china.com
Company Address: Xiamen ZhongJingTai Building Materials CO., Ltd.
Unit 2A, Lianchang Building, No 6-8Huli District,Xiamen, China.