Lightweight EPS Foam Sandwich Wall Panel Machine Cement Concrete Wall Panel Making Machine
wall panel for concrete precast houses:



1.Full Automatic




2.Eco Saving and Advanced Technology




3.Low cost




4.ISO9001-2015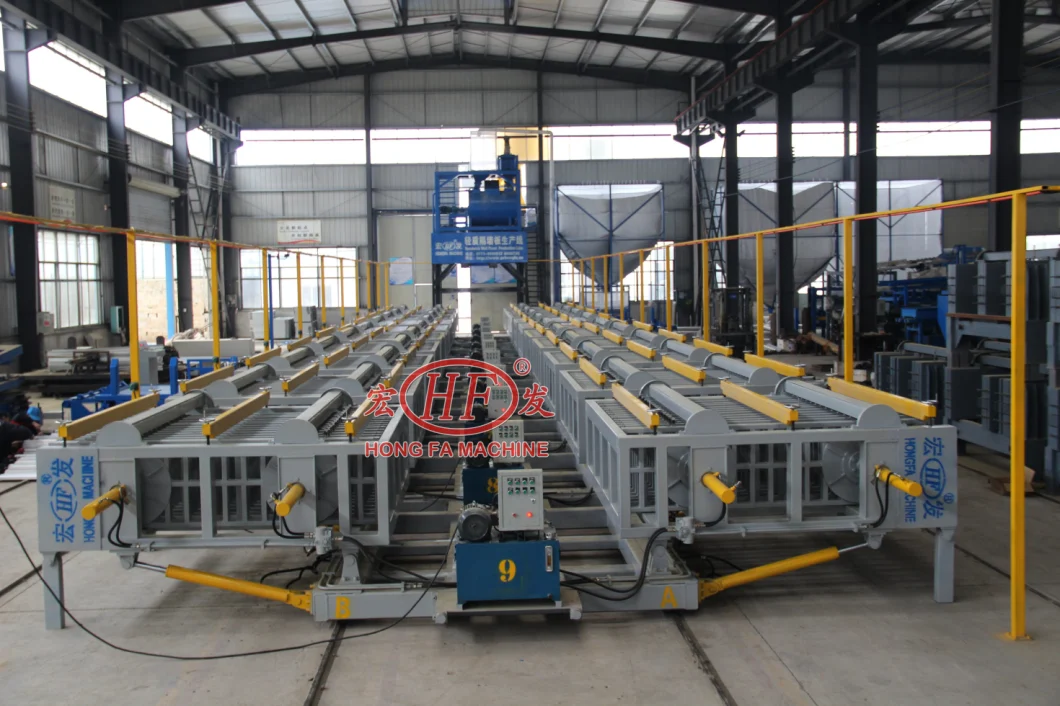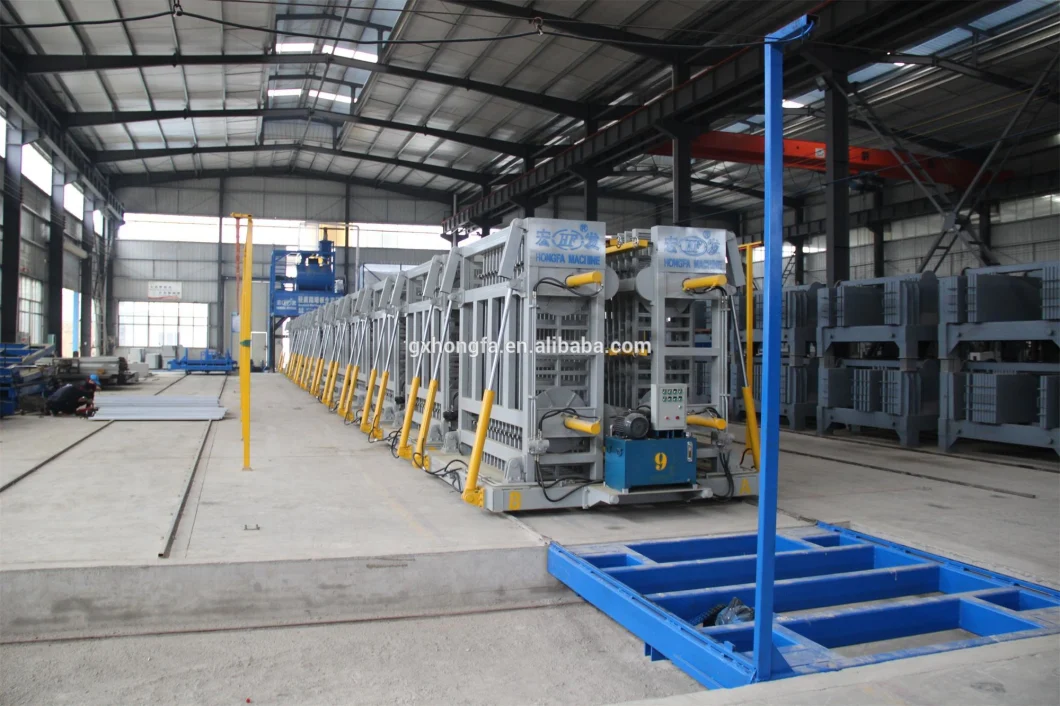 Introduction of Hongfa EPS light weight wall panel production line
1. Materials of Hongfa Brand EPS Wall Panel
Core Material: EPS( Foam polystyrene, Cement and fly ash.)
Board materials: Calcium Silicate Board.

2. Common Specifications of EPS cement wall sandwich panel
L*W*T: 2440mm*610mm*50mm/60mm/75mm/90mm/100mm/120mm/150mm.
2270mm* 610mm*50mm/60mm/75mm/90mm/100mm/120mm/150mm/180mm.
3. Advantages of Hongfa wall sandwich panel
Light weight----Excellent sound insulation----- Heat Insulation
Waterproof Fire proof--------- Energy Efficient Environmental
Convenient construction-----High Intensity without deformation.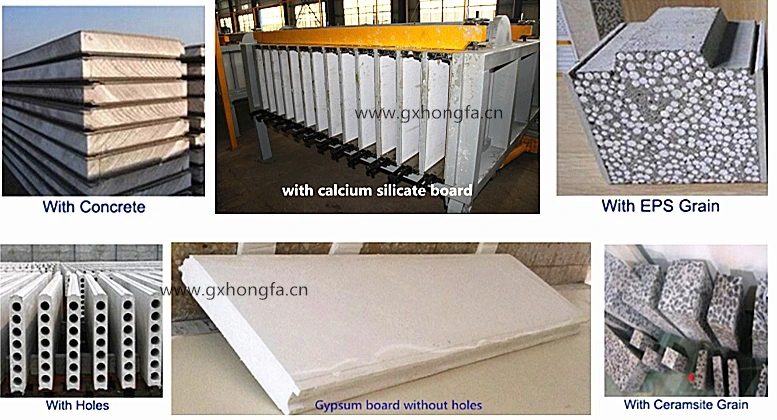 1.Main Feasture:

(1)The machine adopts PLC and touch screen control, automatic filling, electronic weighing, temperature control, material level control to realize automatic production.
(2) With the same machine, it can adjust the panel size and thickness. The thickness will be from 60 to 180mm.
(3) The closed constant pressure foamng barrel features of high heating efficiency and saves stem.
(4)High precise guiding pressure reducing valve controls the temperature and steam pressure of the closed barrel, ensuring the outcome pressure of the valve constant and the inner temperature controlled wihin ±1%, which keeps the foamed material equal and prevents the bead agglomerate because of the bad temperature control.
(5)With photoelectric or vibration sensor to control material level, ensuring density tolerance within ±3%.
(6)The machine is equipped with fluidized bed dryer, including drying, automatic sieving, depluming and material conveying to silos.
(7)Most components are of world-famous brands, with reliable performance, stable quality, long service life and low maintenance cost.
(8)The machine can realize the primary and second expansion.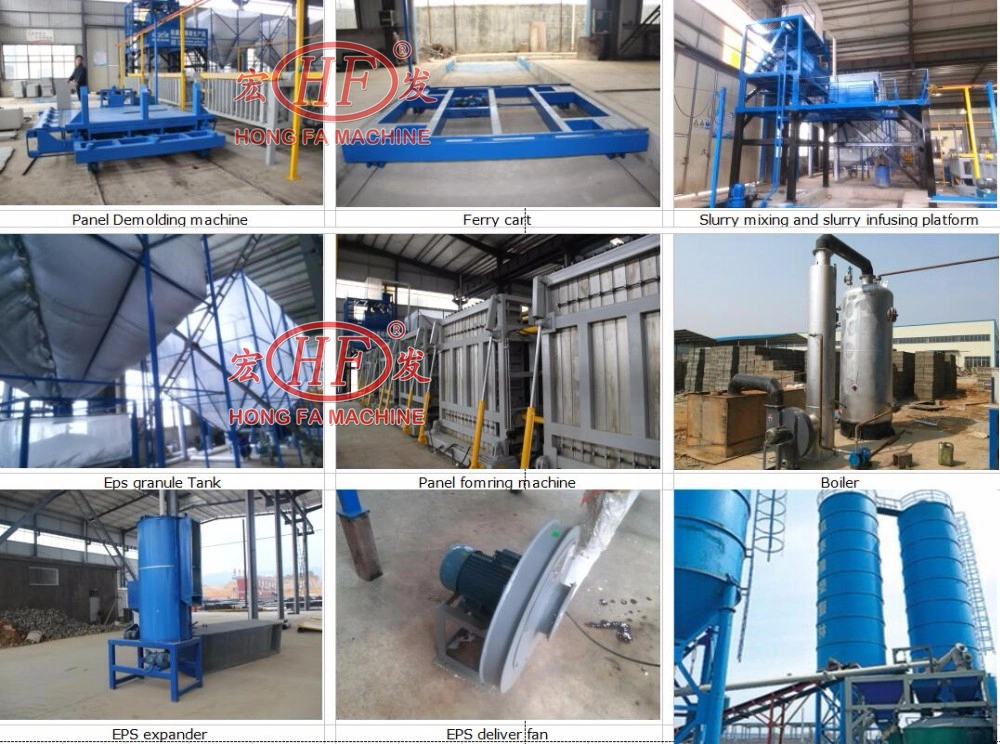 5.Hongfa machinery wall panel production line:
1. Cement wall panel machinery and cement wall panel production line
with 20000m2 to 500,000m2

2. Light weight wall panel making machine with 50000m2

3. Gypsum wall panel machine,gypsum wall panel production line

4. Sandwich wall panel making machine,sandwich wall panel production line

5. Light weight foam wall board making machine

6.Composite wall panel production line,etc.

The three types of the cement wall board forming machine:
A: Horizontal type EPS wall board forming machine: high level of automatic operation,fewer workers required.
Horizontal Type

Overall dimensions

Power

Output with different thickness/pieces per mold

60mm

75mm

90mm

100mm

120mm

150mm

2750x2504x1359 mm

3kw

16pcs

14pcs

12pcs

12pcs

10pcs

8pcs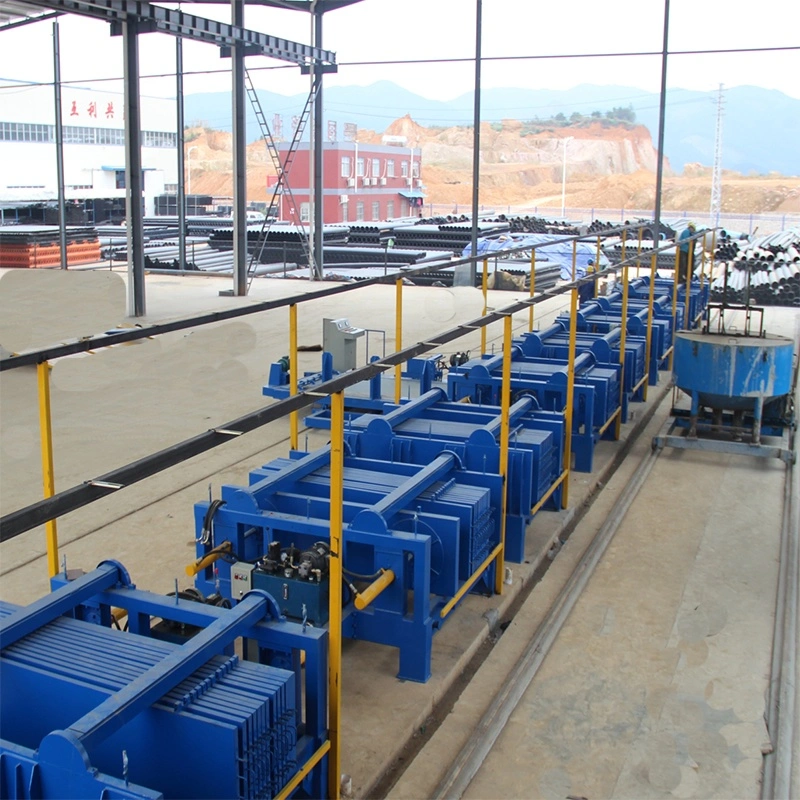 B: Automatic vertical type
Light Weight EPS Sandwich Wall Panel Making Machine
:
automatic operation,high output,fewer workers required.
Automatic Vertical Type

Overall dimensions

Power

Output with different thickness/pieces per mold

60mm

75mm

90mm

100mm

120mm

150mm

3380x3200x2680 mm

4kw

40pcs

36pcs

32pcs

30pcs

26pcs

22pcs

C: Manual vertical type partition wall board making machine: Manual operation,the highest output amount the three types, but requires more workers.
Manual Vertical Type

Overall dimensions

Power

Output with different thickness/pieces per mold

60mm

75mm

90mm

100mm

120mm

150mm

3600x1320x2800 mm

no

58pcs

50pcs

42pcs

40pcs

34pcs

28pcs
Suggested Staffing Table:
| | |
| --- | --- |
| Position | Amount(Person) |
| Moulding/pouring | 1 |
| Demoulding&Packing | 1 |
| EPS Expander Operation/raw materials | 1 |
| Mixer Operation | 1 |
| Transportation | 1 |
| Total | 5 |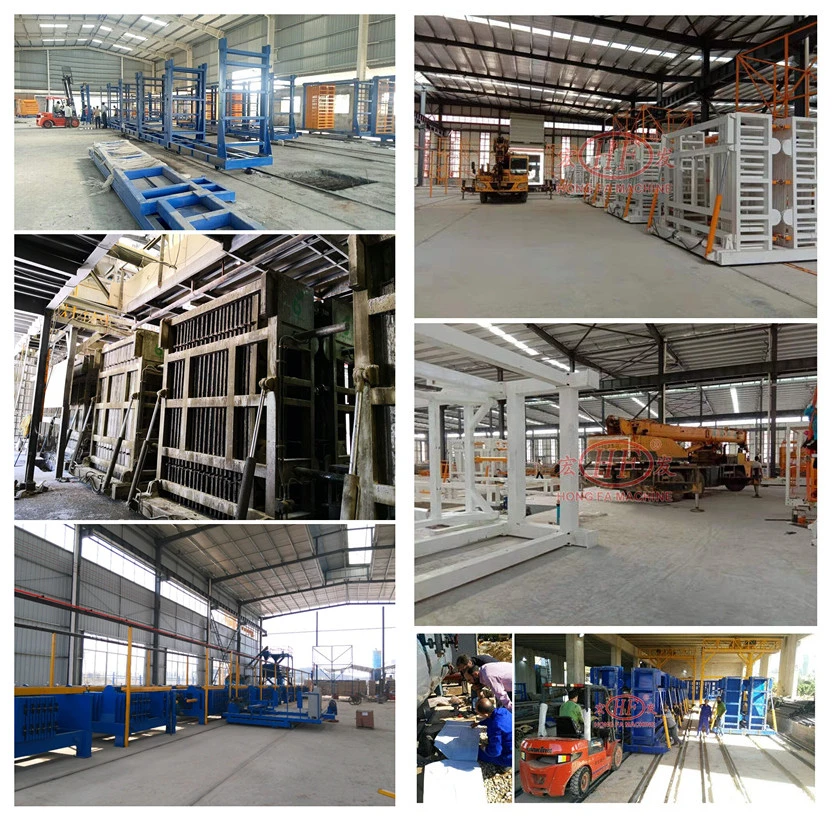 Eps sndwich wall panel application case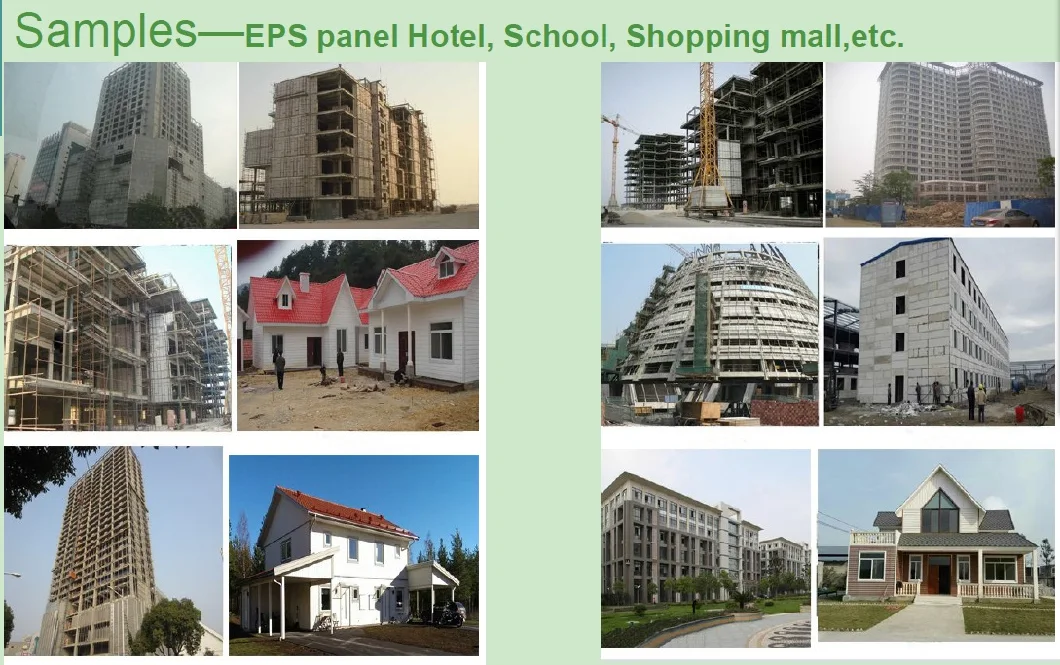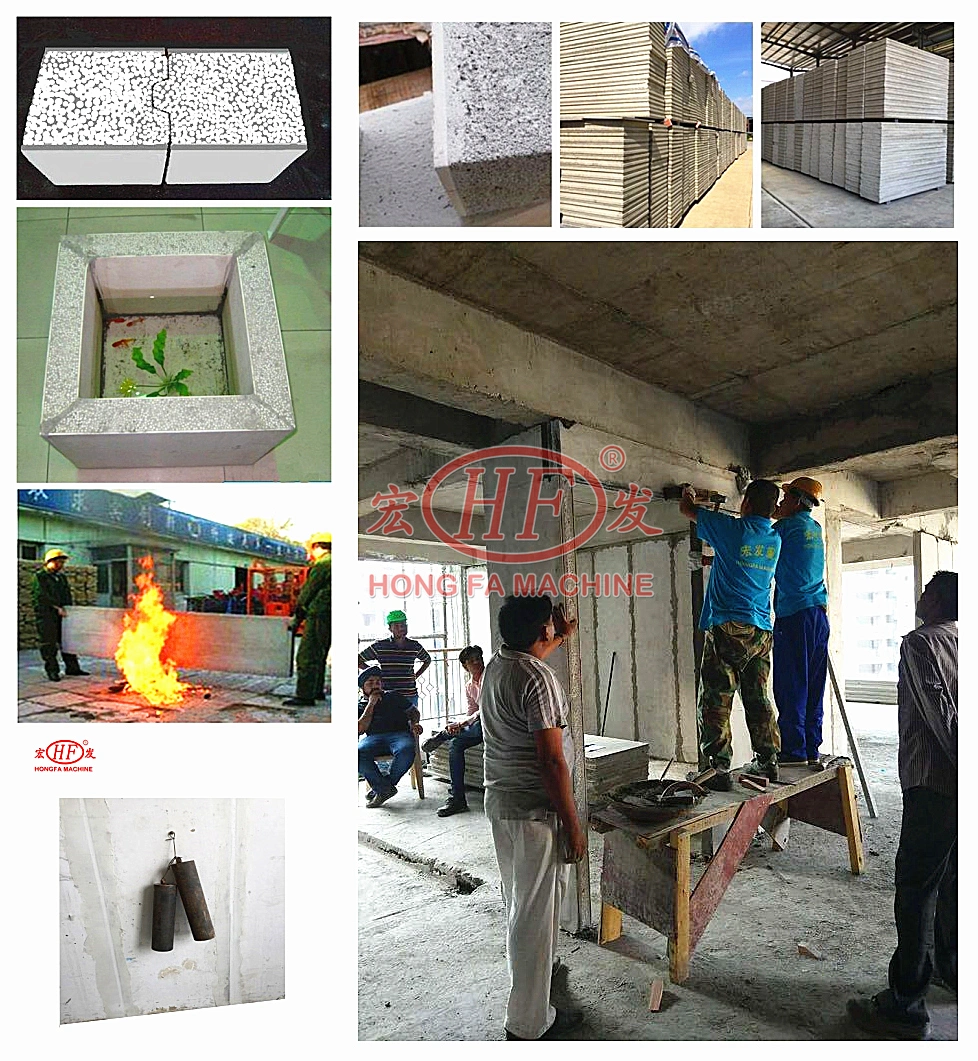 About Hongfa Group

Hongfa Group Established in 1990.
A leader developer& Manufacturer of Construction Material Machinery.
Main business Range & Products:
Lightweight Panel Production Line, AAC Block Production Line, Full Automatic Concrete Block Production Line, Artificial Quartz Plate Production Line, Concrete Pipe Machine, Concrete Tile Machine, Concrete pipe machine, Bidirectional Hydraulic Brick Maker, Mining Machinery, Concrete Batching plant, Stereo Parking Equipment, etc.

Hongfa Strengths
More than 30 years experience. 1500 employee (50+engineers)
2) Total 4 factories with 440,000M2 and annual sell above USD100 Million .
3) 10,000 customers and fulfillment to over 120 countries.
4) Continuous service and logistics system.
5) High quality products and competitive price.We hope we can cooperate with each other and establish a win-win business relationship.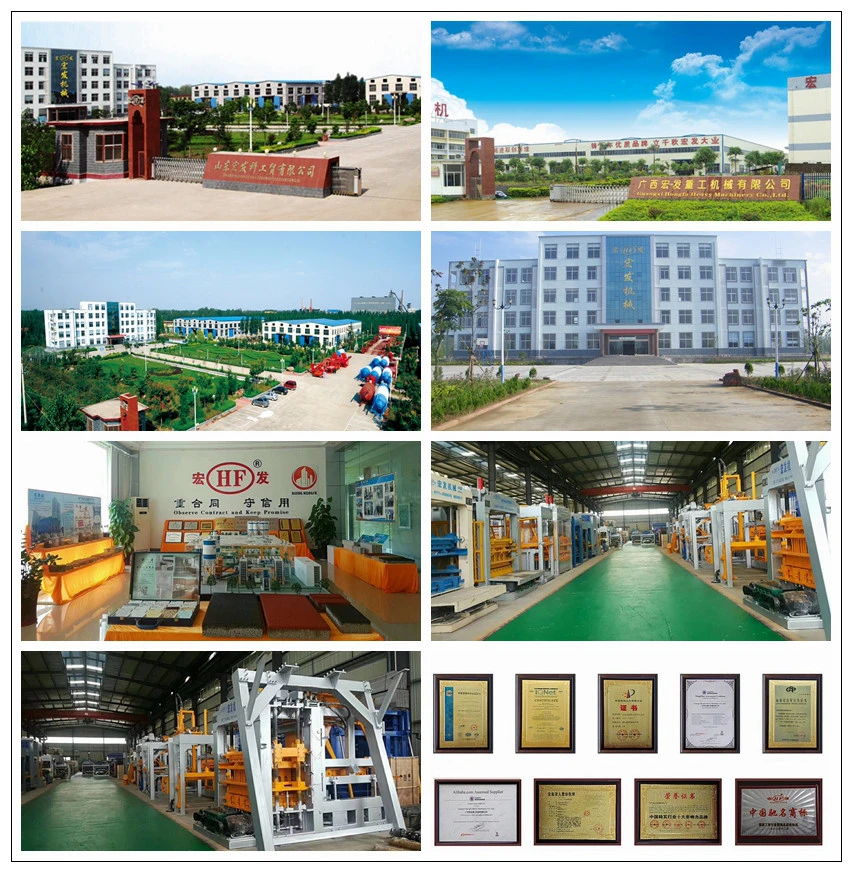 Hongfa Machinery Group'Honor
1.One of Top Ten Influential Brands in China Brick &Tile Industry
2.National Enterprice Abiding By Contract & Keeping Good Faith
3.Quality and Credibility of the Dual-protectionb Demonstration Unit
4.High and New Tech Enterprise
5.Famous Trademark of China
6.Star Enterprise with China Patent
7.AAA Grade Credit Enterprise
8.Consumer Satisfaction Unit
9.One of Top 100 building Material Industry Brands of China
10.One of Top Ten Good Faith Units
11.Advanced Exporter in Guangxi Province
12.Advance Quality Management Unit
Please not hesitate to contact us if you are interested in any kinds of products.
Contact Information:


Foreign Trade Dept. : Emily Lee
Guangxi Hongfa Heavy Machinery Co., Ltd.
What's up:+86 15177094840
Wesite: gxhongfa.en.made-in-china.com